Mint Security tarjoaa Splunkia käyttäville erilaisia lisäarvollisia Splunk konsultointipalveluita jolla saadaan omasta ympäristöstä kaikki irti – turvallisesti.
Configuration Health Check
​Splunkin omien health check työkalujen ajaminen ja niiden pohjalta konfiguraation analysointi ja työsuunnitelman ja käytännön suositusten tekeminen
Yleisimpien konfiguraatiotiedostojen läpikäynti ja vertaaminen parhaimpiin käytäntöihin


transforms, props, limits, authorization, server, indexes, …

Uhkamallinnus vs. nykyarkkitehtuuri / jatkuvuus / tilatarve / klusterointitarve
Valtuuksien ja tunnistuksen tarkistus ja suositus


SSO, ldap, paikalliset tunnukset)

Datan säilytys – data retention
DMC – oletushälytykset
Migraatiot ja versiopäivitykset
Tarkempi suunnittelu ja vaiheittain eteneminen
Taustatietojen kerääminen (tunnukset, polut, muu tutustuminen nyky-ympäristöön)
Palautumissuunnitelma
Splunk varusohjelmiston asennus ja päivitys samaan major-versioon kuin lähtöversio (x.y → x.y+1)
Datan siirto ja mahdollinen siirron harjoittelu
Forwardereitten päivitys
Forwardereitten applikaatioiden päivitys (edellytys: deployment server tai muuten manuaalityö)
Uuden Splunkin testaaminen yhdessä asiakkaan kanssa
Käyttöönotto ja yliheitto
Uuden Splunkin seuranta 5 työpäivän aikana
Splunk tietoturva-auditointi
Uhkamallinnus tietoturvanäkökulmasta
Taustalla Configuration Health Check, mutta paneutuu tietoturvaan
Palvelimien ja arkkitehtuurin asetukset (kovennukset, iptables, segregointi ja segmentointi, proxyt, palomuurit, …)
Palveluiden saatavuus ja jatkuvuus
Datan suojaaminen (hakujen rajaukset, indeksien suojaukset)
Valtuudet (kirjautumiset, valtuudet, oletusoikeudet, …)
Hallintakäytännöt (esim. admin-käyttäjät järjestelmäympäristössä)
Perinteinen ympäristön tietoturvatestaus pentest-työkaluilla
Pilvidatan sijainti
Security Dashboard and Threat Intelligence
"Top-10" tietoturvadashboardit ja tilannekuva
Lähtötietoja


Palomuuri ja DNS
Optio: käyttäjähakemisto (AD), ids/idp, tunnistusjärjestelmä (esim. SAML IDP), proxy, verkkoskannaukset, VPN, AWS/Azure/Google

Threat Intelligence


AlphaSOC NBA ja Obelisk Threat Intel (vaatii erillisen lisenssin)

Esimerkkinäkymiä


AlphaSOCin kautta yleiset uhat ja threat intel (liikenneanalyysi north-south, malware/politiikan vastaiset/tietovuoto/vaaralliset ja epäilyttävät kohteet)
Liikenneprofiilit palomuurissa (sallitut epänormaalit portit, blokattu normaalit portit, ajallisesti epäillyttävät)
IDS/IPS profilointi (per aliverkko)
Top ip/lähde/kohde
Käytetyt DNS-palvelimet
Pureutuminen palomuurilokeihin
Tietoturvalaitteiden audit-trail / muutosten valvonta ja seuranta
Verkkojen skkannaustulokset
Proxy (sisäänpäin) poikkeamat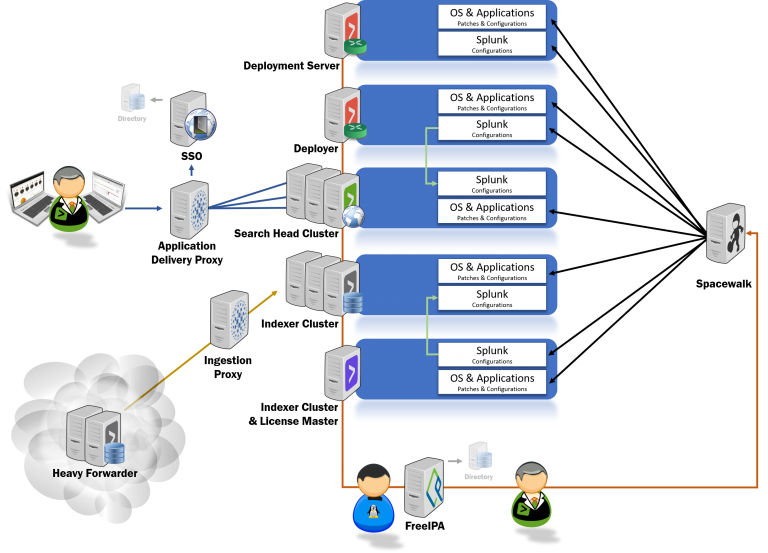 siem
Mint Security has a set of predefined delivery models to choose from. These are based on best practices and experience.
Lue lisää »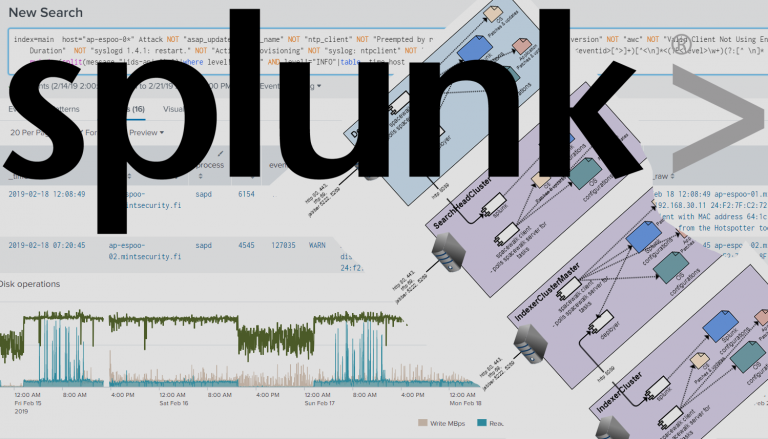 siem
Mint Security provides a vast range of überconsulting for Splunk. From a single server to clustered multisite setups with integrated SSO and 2FA.
Lue lisää »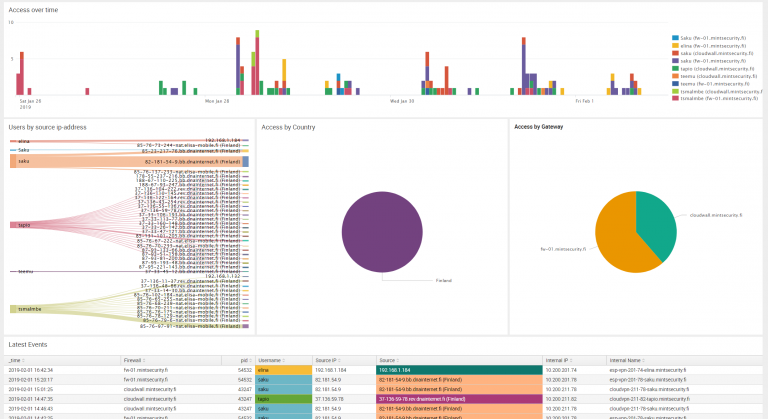 SIEM & Log Management in Brief Situational picture is one of the biggest "hype words" at the moment. Most simply, situational picture is an overview
Lue lisää »