Accurately identify security threats

Hundreds of security teams around the world rely on AlphaSOC to uncover malware, data exfiltration, and policy violations within their networks. Our cloud and on-premise analytics tools instantly provide actionable alerts.
Analytics tools
Our Splunk applications instantly score network logs to identify emerging threats and anomalies within networks. Non-Splunk users can access our API directly and create custom integrations with our SDK.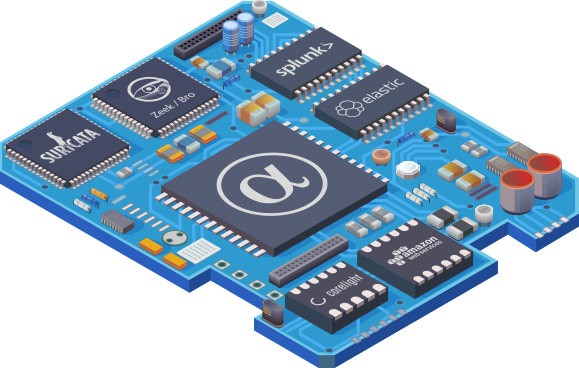 Overview
In brief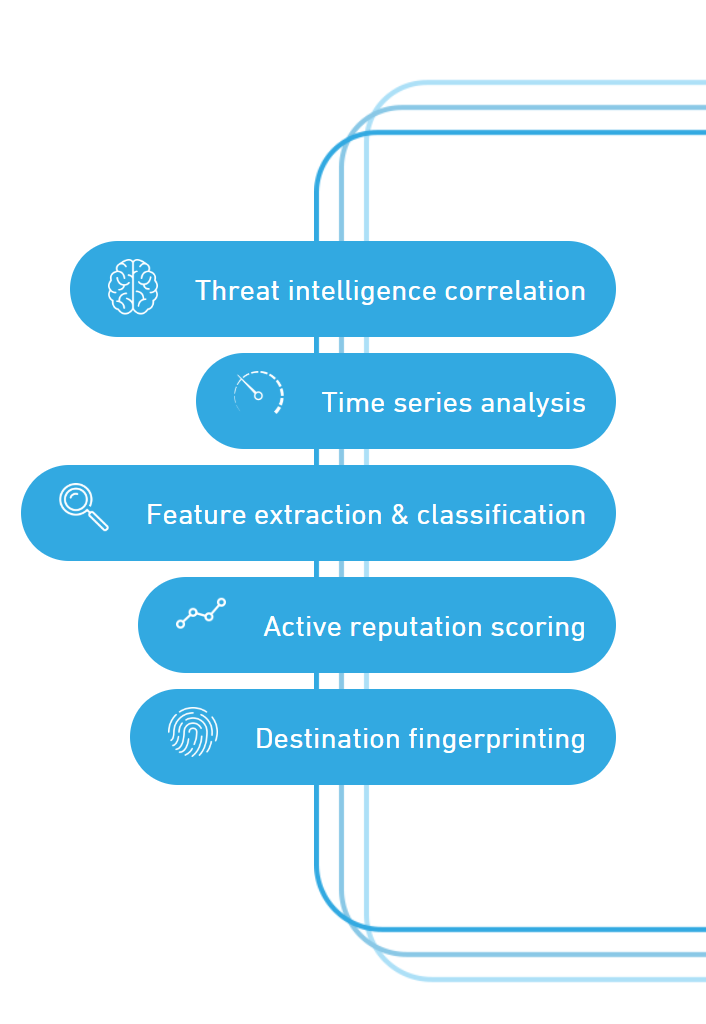 The AlphaSOC Analytics Engine performs deep investigation of the material, such as:
Volumetric and quantitative analysis (counting events, identifying patterns)
Resolving FQDNs and domains to gather context (identifying sinkholes and ASN values)
Breakdown and analysis of each FQDN label (i.e. hostname, domain, TLD)
Gathering of reputation data (e.g. WHOIS and associated malware samples)
Categorization of traffic based on known patterns (e.g. C2, P2P, VPN, cryptomining)
Particular use cases solved by Network Behavior Analytics include:
Uncovering C2 callbacks and traffic to known sinkholes
Tor, I2P, and Freenet anonymized circuit identification
Cryptomining and JavaScript cryptojacking detection
Flagging traffic to known phishing domains
Brand impersonation detection via Unicode homoglyphs and transpositions
Flagging multiple requests for DGA domains, indicating infection
DNS and ICMP tunneling and exfiltration detection
Alerting of lateral movement and active network scanning
Policy violation flagging (e.g. third-party VPN and P2P use)
We also keep your data secure
The people at AlphaSOC take security very seriously and understand how important the responsibility of safeguarding data is to customers.
Data encryption at-rest using AES256
Transport encryption using TLS 1.2+ and AEAD ciphers
Strong authentication via Yubico hardware and an internal CA
System architecture and source code audited annually by a third-party
How does AlphaSOC work
AlphaSOC and Splunk
AlphaSOC and Mint Security
Achieve Network Visibility
AlphaSOC users submit telemetry from network sources including firewalls, web proxies, DNS servers, and intrusion detection systems.
The Analytics Engine performs multi-dimensional processing of network telemetry to highlight anomalies and bring them to your attention.
Security teams use our integrations for SIEM and SOAR platforms to escalate high fidelity, actionable alerts for triage and threat hunting purposes.
Threat Hunter
Find threats in your network. Create alerts. Be on top of all the things happening North-South.
Policy Violations
Find shadow IT like rogue VPN's and unauthorized remote access software. Act on issues or be aware of risk. You choose.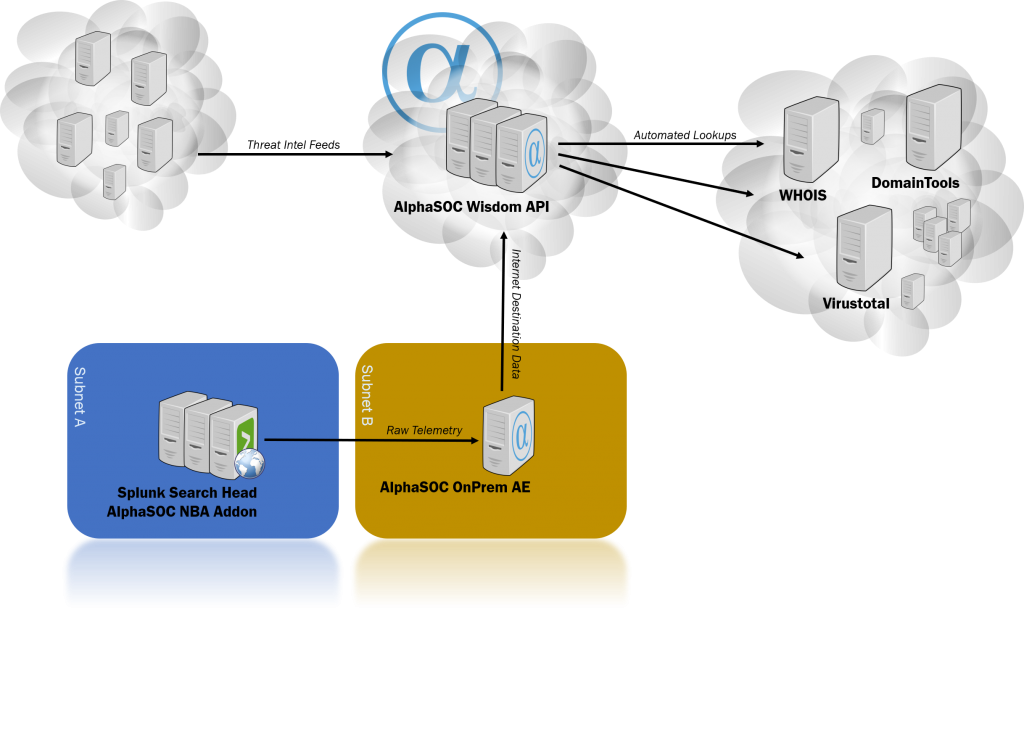 alphasoc
"The cloud!" somebody shouts out loud. "This means my data is sent to the cloud – my precious telemetry data that in the hands of the bad guys could reveal too much about myself!". This is correct. And for the sake of transparency, let's have a look at what actually goes on behind the scenes.
READ MORE »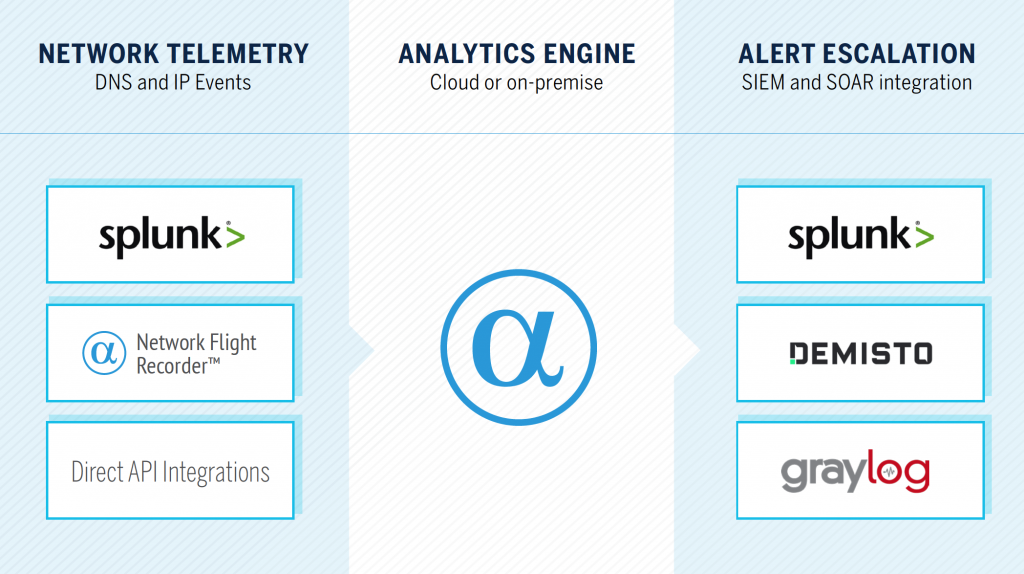 alphasoc
Mint Security will start to resell and support the AlphaSOC product line in Finland and Europe.
READ MORE »

alphasoc
Through Network Behavior Analytics for Splunk and our native integrations for Demisto and Graylog, we instantly enrich network indicators (FQDNs, URLs, and IP addresses) to provide security teams with hunting material.
READ MORE »